Official Exclusive Artificial Turf Partner Celebrates 49ers Win and Super Bowl Berth
At the time of signing this landmark partnership, San Francisco 49ers Vice President of Corporate Partnership Brent Schoeb said, "Adding the artificial turf from Global Syn-Turf has given the space an unmistakable football feel that has helped increase fan engagement with our partners and vendors over the last year."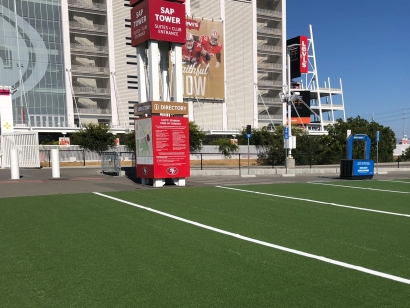 Today, Vice President of Global Syn-Turf Shannon Beck said, "Whether you've seen our artificial grass at Levi's® Stadium or in football fields all across America, Global Syn-Turf is proud to provide a safe and clean place for kids to continue the tradition of football. And when it comes to Super Bowl LIV, we'll be part of Niners Nation, cheering for our boys to bring the trophy home for the 6th time!"
Levi's® Stadium was also the country's first newly constructed professional football stadium to receive U.S. Green Building and LEED Gold Certification with the help of Global Syn-Turf, who also has their certification. Certification is based on water-efficient landscaping, products requiring no water; use of recycled content, use of post-consumer waste, and innovation in design. It's a shared commitment to sustainability between Global Syn-Turf and Levi's® Stadium, which aims to make environmental responsibility a top priority.
The multi-year partnership also goes beyond artificial grass and the environment. Global Syn-Turf is also committed to helping the local community, working with the 49ers Foundation to benefit youth in the Bay Area.