U Blade-80 commands deep-rooted prestige, history, and versatility the turf industry, designed to be used in high traffic areas and widely used in areas such as commercial landscapes and residential lawns. One of our most sought after turf options, U Blade-80 is a bright, beautiful green faux grass built to last for many years to come! U shaped blades stand upright under significant amounts of pressure, maintaining a consistently perfect setting for backyard furniture and garden parties. With a pile height of 5/8" and a face weight of 80 oz./ yd2, the complex mix of Emerald Green and Olive Green blades with Brown and Green curled thatching creates a breathtaking oasis of refreshing green artificial grass.
U Blade-80 instantly transforms your lawn into a plush sanctuary safe enough for kids and pets to play and enjoy while saving you money on the monthly maintenance and wasteful water bills. No more muddy footprints, lawn trimmings, patchy grass or rocks to get in the way of you having the clean, pristine home and landscape you've always wanted. You will marvel at the time and money you save once you've installed Global Syn-Turf's beautiful U Blade-80 in your home.
Durable
U Blade 80 is one of our most durable synthetic field turf products. It can be installed on lawns, landscapes, playgrounds, pet areas, and so much more. Anywhere you install it, U Blade-80 is sure to be just as beautiful after many years, able to withstand decades of wear and tear.
REALISTIC AND STRONG
Synthetic grass that is so beautiful and realistic looking, your neighbors won't be able to tell the difference from real and faux grass. Durable and strong, U Blade 80 is able to keep your pristine lawn looking life-like, despite heavy foot traffic from kids and pets. U-Blade 80 is one of the best among our performance series synthetic turf products as its blades are designed to stand upright under more than the usual amount of pressure.
PLAYGROUND READY
U-Blade 80 is designed to withstand all levels of traffic which makes it a great choice for any area that needs to support a lot of activity, like playgrounds.
COMMERCIAL AND RESIDENTIAL
Blanket your commercial property with Global Syn-Turf's U Blade-60, and enjoy a carpet of the best artificial grass for commercial applications. Welcome new customers and keep existing ones feeling at ease with U Blade-60.
TRAFFIC MEDIANS
Installing artificial grass on a traffic median is a great way to save your community money and water. However, it's important to pick the right kind of artificial grass. Which is why we recommend U Blade 80. It's beautiful enough to keep your neighborhood vibrant but durable enough to endure decades of wear and tear by the public.
Customer Reviews
5 stars based on 8 customer reviews
---
2021-03-26T00:18:54+00:00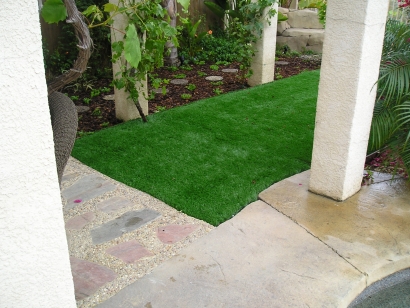 ---
2021-03-10T02:39:48+00:00
It looks just like an actual grass field. It rained the other day and there were no puddles or mud so the kids were able to play on it a few hours later. Truly amazing technology!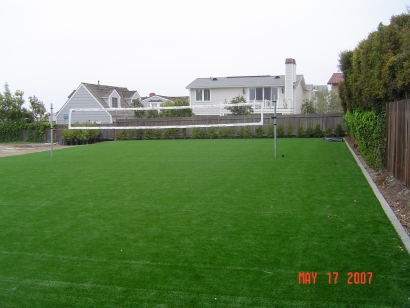 ---
2020-05-28T06:21:32+00:00
Was watching this get installed in my yard and it looks amazing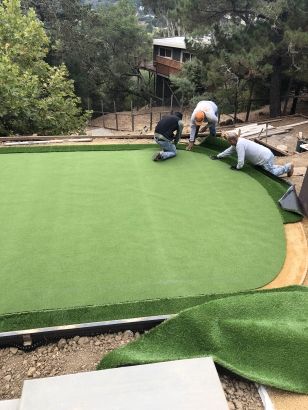 ---
2020-03-12T11:11:37+00:00
Everything looks good! Installed this artificial grass in my yard in late May last year and it has held up all summer. My porch gets next to no daylight so I don't stress over it being too hot to even consider walking on. Also, no need to worry that the grass might die since it is fake. However, it does look and feels real. I use my vacuum to clean it and have begun utilizing my leaf blower since leaves are beginning to fall. A very convenient product worth the money and time!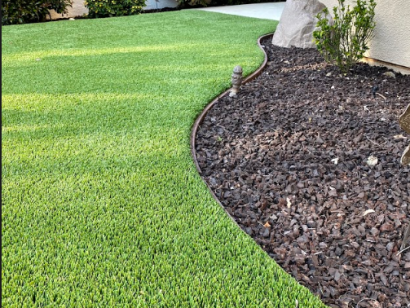 ---
2020-03-05T12:56:19+00:00
I adored this synthetic grass! I got it for my puppy to walk and play on it. It's exceptionally realistic and it is so green. The grass is great and was big enough for me to cut to my desired size. You can keep it fresh and clean by easily rinsing it off with a hose. There is no smell to the turf which I like since I feel like aromas are once in a while added just to conceal different scents. I am also using it as floor covering and I love how it was ready to use right away. So far I have utilized it in the patio and backyard and it's fine. Wonderful and pleasant to stroll on for both humans and animals.
1 like
---
2020-02-18T20:28:12+00:00
I have dogs and cats so I decided to install an artificial grass at the side of our house. I contacted an installer to ask some advise and they recommended me the u-blade 80 because it has shorter blades. He said that shorter blades are perfect for pets because it's easy to clean. He also suggested to use zeolite infill because it can help reduce pet odor. The products he mentioned sounds promising so I gave it a try. He installed it for only 2 days and the outcome is great. My pets can now play on the artificial grass and they don't feel off on it.
2 likes
---
2020-02-11T21:04:15+00:00
We went to a showroom here in Florida where they show different blades of artificial grass. Among all the blades I saw from different companies, I felt in love with this U-blade 80. The first time I touched it I was like, "Wow! This is the perfect artificial grass for my balcony." I also love that they can customize the size since my balcony is not that big. The installer will go here at my house tomorrow to install it and I'm looking forward to a greenery balcony.
3 likes
---
2019-12-24T05:56:58+00:00
I have the U Blade-80 turf installed my back yard in Moraga, California. In my opinion it is the best turf out there. The color is very vibrant and alive, the fibers can be a bit stiff for others but I kind of like it as we do get really warm here and in a warm day, the feels on grass are just perfect. Being U shaped, I assume this product to be durable and it stands up very well. Highly recommend this grass!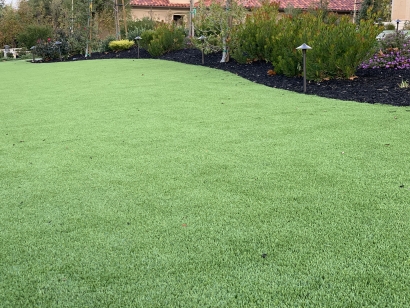 12 likes
---