U.S. Green Building and LEED Certification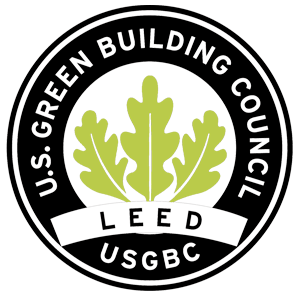 U.S. Green building Counsil LEED certification
301
295
Global Syn Turf is a proud member of the U.S. Green Building Council and LEED Certification (Leadership in Energy and Environmental Design). Installing Global Syn Turf can earn buildings and projects points towards being LEED certified. Global Syn Turf continues its efforts to be "Green" and "Sustainable" by providing materials that contribute to LEED certification. By eliminating the need for water we are helping save one of the world's most precious resources. Did you know 70% of residential water usage goes to irrigating outside the home. By switching to synthetic grass you are doing your part of "Going Green".
LEED points can be accumulated with the following categories: Water Efficient Landscaping, Recycled Content and Material and Innovative Design.
| Category | Environmental Impact | Points Accumulated |
| --- | --- | --- |
| Water Efficient Landscaping Reduce by 50% | Requires no water | 1 Point |
| Water Efficient Landscaping No Water Use | Requires no water | 1 Point |
| Recycled Content: 10% | Utilizes post consumer waste | 1 Point |
| Recycled Content: 20% | Utilizes post consumer waste | 1 Point |
| Innovation in Design | Unconventional material application | 1-4 Points |
Architect and Design Library
Click on each product to view and download specifications, certificates, CAD, MSDN, warranty, installation and maintenance instructions PDFs.
Product
Specs
Testing
Summary
CAD
Warranty
MSDS
Install
All Natural-75
C Blade-92
Cashmere 40
Cashmere 52
Cashmere 70
Double S-72
Double W-85
Emerald-92 Stemgrass
High Sierra
Natural Blend
Olive-51
Olive-92 Stemgrass
Pet Turf
Pro Putt-44
Putt-60 Bicolor
Riviera Monterey-50
Riviera Monterey-65
Riviera Monterey-84
S Blade-66
S Blade-90
S Blade-90 Green on Green
Sierra Pro-70
Sierra Super 94
Spring-50
Star Grass-35
Super Natural 60
Super Natural 80
Trainers Turf-63
U Blade-60
U Blade-80
W Blade-60
W Blade-80
Find Artificial Grass in Your City
Billings
Gulfport
Reno
Tucson
Lewiston
San Jose
New York City
Virginia Beach
Lincoln
Denver
Pearl City
Columbus
Cleveland
West Valley City
San Antonio
Tulsa
Burlington
Mesa
San Diego
Great Falls
Chicago
Birmingham
Newark
Philadelphia
Green Bay
Rochester
Minneapolis
St. Louis
New South Memphis
Jacksonville
---
Global Syn-Turf, Inc. is a leading manufacturer and wholesaler of high-quality artificial grass in the United States and Canada. The company offers an extensive selection of products for commercial and residential landscapes, playgrounds, sports athletic fields, municipalities, golf putting greens and pet areas. Global Syn-Turf, Inc. provides innovative, environmentally friendly synthetic turf systems which require little maintenance, no water, pesticides, or fertilizers through multiple company-owned distribution centers across the United States. The state-of-the-art artificial grass offers realism, drainage, performance, safety, and durability. Global Syn-Turf is the exclusive artificial grass partner of San Francisco 49ers.