Artificial Grass Cooling Technology
Artificial grass doesn't get as hot as concrete, rocks, patio furniture, or composite decking but it will get hotter than natural grass. According to researchers from the University of Nevada, Las Vegas (UNLV) and the Desert Research Institute (DRI), "Maximum surface temperature of green artificial turfgrass was approximately 69 degrees Fahrenheit higher than that of irrigated natural grass, and 62 degrees higher than air temperature." The study was done in 2006 and 2007 to warn municipalities of potential overheating of synthetic turf in parks and athletic fields in one of the hottest and dryest states in America and to be aware of the recreational use of synthetic fields during hot summer months. Since then the technology of artificial grass has changed its landscape.
In 2014, the Global Syn-Turf research and development team discovered that the thermal properties of artificial grass are partially determined by the shape of synthetic fibers. It was the break-through in the synthetic turf industry. The tests proved that the KoolMax technology could reduce the temperature of turf by 15 degrees Fahrenheit. A significant improvement for residents of Southern California, Nevada, and Arizona who tackle extreme heat conditions every day. The discovery facilitated a positive outlook for the effective and functional uses of alternative water-conservation initiatives.
Learn more about KoolMax Artificial Grass Cooling Technology.
Today, artificial is commonly seen and sold online and in national home improvement retail stores like Home Depot, Lowes, Menards, Ace Hardware, Amazon, Wayfair and more. It's adoption into the market and into people's homes continues to grow. This is why it's important to understand how to choose the right kind of turf and how to keep it cooler in warmer climates.
Artificial Grass is Not a Live Plant; It Doesn't Cool the Environment.
Plants transpire by releasing oxygen and evaporating water; which allows them to stay cool in warm temperatures. While artificial turf does not undergo this process organically, it does provide the exact look of natural grass.
A perfect, weather-resistant synthetic turf rug, like all plastic in the world, can get hot. So when you're looking to cover a small area with synthetic turf for your patio, deck, or a rooftop, you will find expensive and cheap options. But not all plastics retain heat the same way. Every material has different melting points and lifespan.
Can Artificial Grass Melt?
There are different plastics used to manufacture artificial grass. Professional-grade artificial grass is made of Nylon or Polypropylene. Polyester, acrylic, and other hybrid materials can be cheaper but are feel hard to the touch, and cannot provide reliable durability, resilience, feel and visual appearance.
Nylon 6, for example, has a melting point of 428 degrees F. Polypropylene: 320 F. Polyester: 250 F. A difference of almost 200 degrees.
While the air temperature will not likely reach this melting point on its own, glass can certainly help in getting there, which could lead to your turf melting. Being aware of common glass objects like windows, knobs, or doors can help you in preventing this from happening.
Be aware that the glass objects have been implicated in focusing the sun's ray sufficiently to cause smoldering, following by melting of patches of turf.
Three Things to Consider Before Buying Artificial Grass
If you'll be installing it in a sunny outdoor area, and you're looking for an affordable yet beautiful and life-like type of artificial grass, Polypropylene is the way to go.
If you like to frequently change rugs without worrying much about the realistic look and soft feel and if your outdoor area is not exposed to the sun and rain, Polyester or Acrylic might be a good alternative.
For in-ground artificial grass installation, there are only two options available, Nylon or Polypropylene.
Nylon is the premium option, providing incredible resistance and durability.
Polypropylene looks more like natural grass and lasts for more than 20 years.
Today, artificial grass comes in different designs, colors, and combinations. You can choose from a variety of lush greens, vibrant reds, pinks, blues, or white synthetic turf to refresh and upgrade your outdoor space.
Cooling Turf For In-Ground Installations
When you install a synthetic lawn, there are infill options that naturally cool your turf for you. At Global Syn-Turf, we always recommend organic infills that are anti-allergic, anti-microbial, and odor-reducing. It provides many environmentally friendly properties while also working to keep your area cool.
Natural sand infill is the better choice when compared to rubber infills solutions. It absorbs shock, fights bacteria, provides extra resilience and durability, while also helping to keep your turf cooler. Sand has a low heat capacity, but it retains water, unlike nylon or polyethylene. A simple water sprinkling can help to reduce the lawn temperature and keep your turf cool.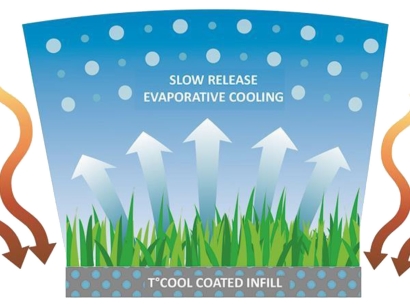 >
It Isn't A Live Plant, But It Can Be Cooled Using The Same Evaporative Principles
In 2018, Global Syn-Turf introduced a new artificial grass cooling technology that revolutionized the industry. Newly developed TCool infill makes the synthetic surface "breathe", keeping moisture inside the infill particles, allowing for slow-release evaporation that will last for days after water is applied to the field.
TCool is the only warrantied synthetic grass system that helps to reduce the synthetic turf temperature by 50 degrees Fahrenheit. The new technology has been developed through years of extended research and real-world testing.
Conclusion: You Can Have a Cool Beautiful Green Lawn
The decision to replace natural lawns with artificial grass is an important one. Synthetic lawns save millions of gallons of water every year and entirely eliminates lawn care expenses. It provides a super-realistic looking landscape, soft to touch texture, and amazing longevity. You also use a variety of solutions that address any cooling concerns. If you have not yet installed your lawn, you can always avoid hot artificial grass and infills that result in the surface overheating.
Looking for Free In-Home Estimate or Free samples? Call us today or find a professional, certified synthetic tirf/putting greens installer near you. Imagine how much the look, feel and value of your home or business will improve simply by adding one of our premium-quality artificial grass lawns to your outdoor space. Your custom design and installation is just a phone call away!