What Do You Need to Know About Artificial Grass Warranties?
Artificial grass warranties are designed to take some of the risks away from customers, helping to keep a peace of mind and eliminating worries that the turf will not perform as advertised. Most people think that if a manufacturer has a good warranty, the product must be well-made and of good quality. Since there is no big diversity of turf manufacturers in the United States, this statement, unlike for most home-improvement industries, is actually true. Warranties are going to differ from one manufacturer to another, but there are also some key points you need to know if you plan to install synthetic grass; this is why it's highly recommended to read the fine print when you are looking at the manufacturer's warranty.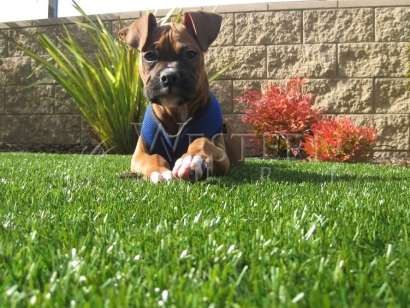 The main thing to keep in mind about synthetic turf warranties is that they are not the same as the installation or service warranties. There are two kinds of warranties for artificial grass. The manufacturing warranty is used in case your turf falls apart because of shoddy workmanship, and the service (installation) warranty needed if your turf has failed due to poor installation.
Manufacturer's warranties are not going to cover improper installation or improper care or maintenance. Improper installation is handled by the company or subcontractors who install turf. Artificial grass warranty covers only the turf itself, not the improper sub base installation or drainage.
Improper care or maintenance means that you have to follow instructions given to you by the manufacturer, so you don't fail warranty.
Artificial grass usually comes with 5, 7, 10, 15, or a lifetime manufacturer's warranty on turf products. You may also want to check if the warranty is transferable; if you decide to sell your property, you may want to give a notice to a company-warrant.
Less than 15-Year Warranty. What Does It Mean?
15-Year Warranty became a standard in the synthetic turf industry since 2017 for large size manufacturers. If the brand has less than 15-year warranty, it means your turf is not trustworthy, and the manufacturer took several shortcuts in the production process to make the product cheaper. It means the end product is bad news. What does it mean?
1. Low-quality synthetic turf is made of low-quality monofilament yarn. Monofilament yarn consists of a single solid filament. The production of high-quality yarn requires expensive machinery to extrude a melted polymer through small spinneret holes. The higher tex fibers are made with a diameter of 100 microns and up. The low text monofilaments have less than 100 microns in diameter, which makes fiber fade and melt quickly.
When exposed to sunlight, polyethylene can become brittle. To produce a high-quality synthetic turf, UV stabilizer must be added to the polymer mixture. Low-quality artificial grass wouldn't have a UV stabilizer that makes it more cost-effective at the expense of quality and life-span of turf.
2. Inappropriate backing. High-quality synthetic turf's backing incorporates two layers; the primary layer into which fibers are stitched in rows, and a heavier layer that holds the tufts in place, weighing the turf down. Cheaper synthetic turf may have only one layer, and the backing doesn't have enough weight to keep the turf in place.
There are a couple of choices for turf backing. It can be made of latex, urethane, or geotextile. Urethane perforated backing is more expensive, heavier, has a better drainage speed. Latex is cheaper and degrades much faster, especially in wet conditions, making turf blades to come loose. Geotextile backing doesn't have perforated holes, doesn't hold turf down, and actually, has a lower drainage performance compared to urethane backing.
3. Thin turf blades with no performance shape. For synthetic grass, thicker is better, but the shape of fibers matters too. Wider, thicker fibers with performance blades (like Diamond Blade, W-Blade, S-Blade, etc.) look like natural grass and have much better resilience, which helps turf blades return to its original shape after applying pressure (chairs, furniture, any heavy objects or traffic.) Low-quality synthetic turf doesn't have enough resiliency to be the true artificial grass as it will flatten down under an insignificant amount of pressure, lose its shape, and appear dull and unrealistic.
You can check how thin is the turf fibers by pulling off a couple of blades from sample edges and holding them up to a light source. If it's too thin, you will see the light shining through the blade. High-quality fiber doesn't let the light pass through the blades.
Limitations to the Synthetic Turf Warranty
Synthetic turf warranty is usually limited to ultra-violet degradation, fade resistance, quality assurance, stain, pet urine, texture, and abrasive wear. Manufacturers are going to have different warranties on their synthetic turf and various exclusions, which is why it's vital to check the warranty information on turf you are purchasing.
Artificial grass manufacturers typically have a clause in their warranty that mentions the damage caused by reflections along with other flammable materials; it is NOT covered by warranty. The reflection from windows, vinyl fences, metal blocks, concrete/stucco walls can cause significant overheating to artificial grass fibers that may lead to melting of polyethylene fibers.
The warranty usually doesn't cover damage caused by improper cleaning agents, exposure to chemicals containing halogen group elements (iodine, chlorine, bromine, fluorine). Also, some high-intensity herbicides, pesticides, chemical run-off may cause damage, and it's not covered by warranty. How do you know which chemical agents can cause a turf deterioration? You can contact your manufacturer and ask them a question, or try it on a small patch of turf to check the effect on grass. Some people keep small remnants from turf installation for this case.
Keep all these things in mind when you're planning to install artificial grass.