Lawns are going through somewhat of a revolution and lawn care companies and home improvement stores either have to evolve or risk getting left behind. For the last couple of years, big chain stores and online retailers like Lowes, Home Depot and Amazon keep adding new synthetic turf products, drawing you into new and exciting twists you never saw coming.
It's 2019. There is a new smart toilet with Alexa integration that lets you customize the temperature of the seat and play your favorite songs. People are wearing MReal mixed reality glasses to watch movies on the go. With a Ring doorbell and the app, you can answer your door and see strangers snooping around your house from virtually anywhere in the world.
Obviously, technology is booming. Big time.
But what does it have to do with artificial grass? The landscaping is going through its own technological surge. It started with astroturf from the 90th that looks more like a thin green indoor carpet, slick as grease if you rubbed it in one direction, and tear your skin off and blew off your knee if you rubbed it in another. Now it gives the incredible visuals that mimic natural grass in details. Artificial grass manufacturers are using technology to their advantage creating never-seen-before patterns and jaw-dropping new features. Crazy, right?
So, hang on tight. The 2019 synthetic turf trends are filled with some incredible looks, ideas, textures, and more.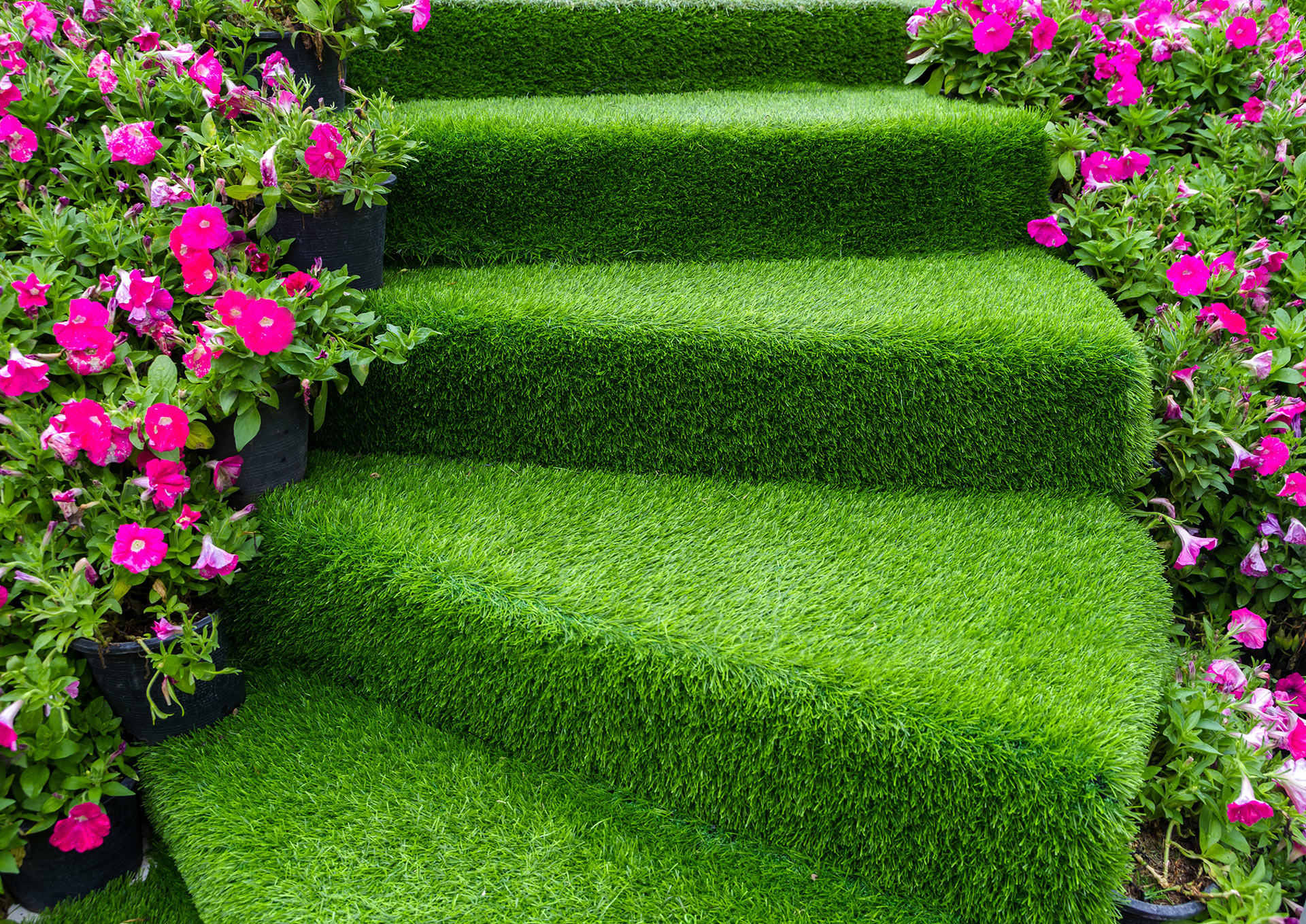 artificial grass stairs pink flowers
1920
1359
A Homeowner Dream!
Artificial grass is notorious for virtually no maintenance. With natural lawn, you need to mow, water, trim it, add fertilizers and add pesticides to get rid of unwanted weeds. It's the worst. Synthetic grass has changed all that!
One main advantage of artificial grass is that it's wonderful for families and pets. Dog pees in his favorite spot day after day? No Problem! Simply do nothing, or hose it off with water once in a while. The days of dead patches caused by ammonia in pet's urine are over.
In fact, artificial grass is the biggest trend not only for lawns and golf courses, but for basements, patios, and even walls. It's 100% waterproof and perfect for temperamental, water prone basements, and open spaces. You can lay on any surface - concrete, tiles, wood, or dirt.
Any Size, Any Shape
This makes so much sense. Artificial grass is just a strong, durable, life-like, permeable grassy outdoor carpet. The two main challenges with area rugs are that it's challenging to figure out the right sizing for your space.
With artificial turf, you can create your dream rug of any custom size and shape to fit your area perfectly. You can curve it, makes it rectangular, circular, anything you can imagine. You can create your own style and decor. All of the winning!
Express Your Creativity with Spectacular Colors
You can mix different colors and shades of turf to make your space look just the way you want it. Synthetic grass comes in different shades of greens, and also in different colors like white, pink, red, blue or orange. You can also paint turf with aerosols and removable paints.
Active Lifestyle Enthusiasts
If you like to recreate your own backyard golf, bocce ball or tennis court, synthetic turf is the best and the only option. It's great for areas you want to make your private exercise alley. Putting greens and short-pile turfs are super cute and tremendously popular. A little time and technology go a long way, and now, artificial grass manufacturers have come up with a trendy home outdoor jam twists.
Parents Heaven
Artificial turf in 2019 is 100% Lead-Free, soft and safe for kids of all ages. If there were ever a sure thing in the world of playgrounds, this would be it. If you have playground equipment or just want your kids to be completely ensured from fall injuries, just lay a lawn pad or shock pads underneath your turf, just as you would with a carpet.
Synthetic turf is so much better for playgrounds than sand, grass, rubber, or concrete (ouch.) And it looks inviting and green all year long.
Environmentally-Friendly
We are reached a time where the young homeowner demographic is primarily comprised of millennials. And not to pigeonhole an entire demographic, they tend to care a lot about how their purchases impact society, the environment and more. From owning tiny homes to thrift store shopping and eco-friendly tourism, millennials are making great strides to reclaim the earth and keep it healthy for future generations. Today, all eco-friendly things are bang on-trend.
It's not enough anymore to sell soil, turf, fertilizers at a low price, and to offer doubtfully-organic and no cheap lawn care services. Manufacturers, retailers, and lawn care service providers alike need to bring something good, respectable, save and likable to the table. And with the ability to reduce our carbon footprint using recyclable and eco-friendly artificial grass, to not jump in headfirst would be just irresponsible.
Because green and environmentally-friendly markets are so big right now, artificial grass became a new trend in landscaping extremely fast. Large carpet manufacturers, like Shaw Industries group, are learning fairly quickly that prioritizing environmental stewardship can be great for business too.
Does the Lawn Care Become the Thing of the Past in 2020 and Beyond?
Absolutely. In the last decade, artificial grass continuously grew from being a commercial, sports-venue trend to becoming a popular lawn trend today in an average residential household. It's more than a cheaper and more convenient, time-money-saving option comparing to natural lawn; it's a trend of new environmental vision for Gen X'ers and Millennials. They are, after all, the generations that will rip the results of unwillingness to address climate change.
Most consumers today say they want sustainable products and willing to show their green streak. Fertilizers, pesticides, irresponsible use of water to support the visual appearance of a traditional lawn becomes the thing of the past.
Young people today see new ways and products that better fit their individual values. Many areas in life are rapidly changing, and the landscaping is one of those. There is a reason why people don't want to play on a lawn sprayed with pesticides and herbicides. The same reason why they don't want to eat meat with growth hormones, candies made of high fructose corn syrup, or low-cost chocolates with paraffin wax derived from petroleum. It's toxic and bad for you. There are also such things as beauty and convenience a traditional lawn fails to provide. So, yeah, the days of lawn care are over. Synthetic turf is more than just a product that saves money. It offers a highly functional outdoor infrastructure that goes well beyond the stereotypes.