W-Shape Blade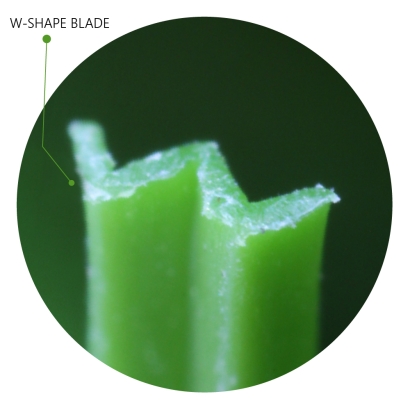 The fiber shape of artificial grass determines several factors; how well a fiber resists fraying, or how the surface responds to solar glare and does it have a fiber memory, the ability to recover to its original shape. The flat, smooth polyethylene fibers are temperature-sensitive and less resilient than more complex blades melted and formed into a continuous profile. The molten synthetic fibers are molten into a die, which shapes the polymer into a shape that hardens during cooling. Complex fibers were initially too expensive for widespread use but became more affordable over time. The first manufacturing experiments with turf blades resulted in the creation of Diamond blades, followed by StemGrass shaped turf, and was proven to enhance resilience, durability, and overall look and feel of the synthetic surfaces.
In 2015, Global Syn-Turf introduced the next generation of artificial grass, the W-shaped synthetic yarn that has unique heat-retaining properties. This design formed as an English letter "W" has two midribs and four main facets to reflect solar glare and dissipate sunlight in multiple directions. The invention of W-Shaped fibers resulted in the wide-spread use of synthetic turf grasses in hot, dry climates when heat retention properties are vital to the overall performance of synthetic surfaces. The "KoolMax" technology was born. Due to its affordable costs, versatility and realistic appearance, the W-shaped turf became a hit of synthetic grass industry. The success and dominance of KoolMax led to increased popularity of residential synthetic turf applications.
Due to its light diffusing characteristics, the W-shaped fibers retain significantly less heat. The solar energy transmission slows down as it passes through the blade. A series of tests in a controlled environment have shown that GST's W-Blade designed artificial grass is 15 degrees cooler than any other synthetic turf on the market. Adding a benefit of the realistic non-glossy look enhanced ability to withstand heavy foot traffic this type of artificial turf overruns every other in commercial applications.