Bright, beautiful Spring-50 truly embodies the renewing season it is named after. Emerald and Lime Green blades combine with Brown and Green curled thatching create the refreshing Spring color palette. With a pile height of 1 5/8" and a face weight of 50 oz./yd2, Spring-50 is perfect for your commercial or residential landscape designs. With Spring-50, your yard will be transformed into a perfect, lush green lawn. Patchy grass, brown spots, and rocky terrain will be distant memories. Soft, pillowy blades of green grass will last year after year despite extreme weather and wear.
You will be happy with the amount of money you save on bills, as well as how low maintenance Spring-50 by Global Syn-Turf is. Little upkeep is required to maintain this turf in its pristine original condition allowing you to have more time to spend doing things that make you happy. Your time is important - never mow, water, weed, or use pesticides ever again.
Customer Reviews
5 stars based on 13 customer reviews
---
2021-04-24T00:04:30+00:00
---
2021-04-24T00:04:25+00:00
---
2020-12-12T01:54:41+00:00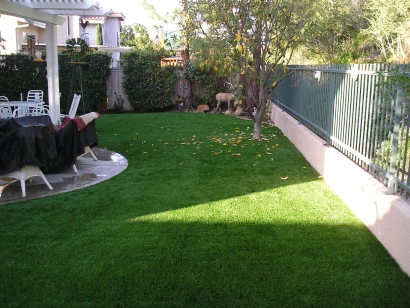 ---
2020-04-14T01:13:48+00:00
I like the color of the spring series. Might have my sister get it in her home as well.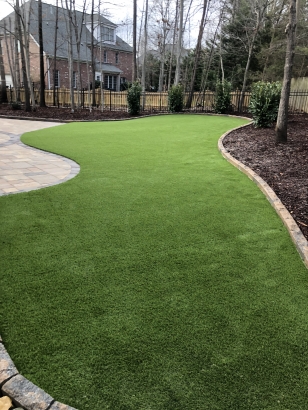 ---
2020-02-20T00:35:15+00:00
Your artificial grass has tons of 5-star reviews online! We selected the Spring-50 model that looks natural and most importantly, wouldn't overheat in the sun. Nice quality and so easy to maintain. The quality and design are absolutely beautiful. We loved the fact that when we received it, it didn't smell odd. You can even apply it right away if you'd like, which is also quite easy to do. It looks so bright and natural! Excellent product and I should say, the grass is indeed greener on the other side with Global Syn-turf!
---
2020-02-17T20:37:33+00:00
My sister used to walk my dog, Dixie, every morning while I'm going to work. However, since my sister involved in an accident, she stopped walking my dog too since she needs rest. Dixie doesn't feel comfortable pooping and peeing in our bathroom. I'm thinking that she's holding herself and I don't think it's healthy. I read that artificial grass is a perfect substitute with the real grass so I bought a small portion and installed it on her area. The time I was finished installing, she immediately sat on the artificial grass, rubbed her stomach on it, and rolled. She loves the feeling of the grass. It indeed feels soft, as Dixie can't feel the difference at all. I'm just waiting for him to use the artificial grass as his bathroom.
1 like
---
2020-02-14T00:24:45+00:00
Your installers ate the hardest workers I have ever met! I have rated your service 5 stars for efficient work! I am absolutely delighted with the new artificial lawn. It gives us a perfect area to enjoy. Keep up the good work!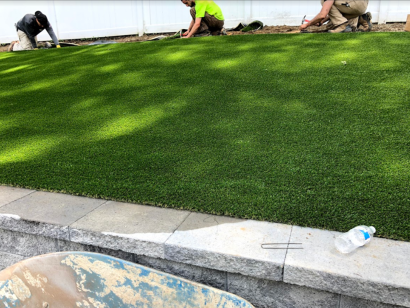 2 likes
---
2020-02-06T05:48:36+00:00
My husband suffers from allergies and gets sick every time we try to mow our lawn or even try to clean up, it always lands him to the doctor's office. It would make him sick for days and as much as we want to keep our lawn, I don't want to sacrifice my husband's health to just have a nice yard. That's when I decided to look for a solution and invest in artificial grass after doing some research, for our peace of mind. We decided to go with Global Syn-turf as it seems reliable, unlike other companies. The price is also very reasonable and we can finally enjoy the weekend without thinking about our lawn. Thank you for making our lives easier!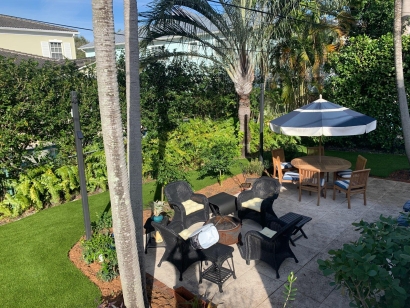 3 likes
---
2020-01-16T00:29:22+00:00
I am using this on a wood deck for my 18 lb dog he took right to it as far as staining the deck I move my grass around from time to time so don't notice staining and don't put pee pee pads underneath. This deck is high up and on the water so don't like my dog going down to the grass at dark.
It's beautiful and DOESNT stink !!! And I DON'T hose it down every time (lazy me) Pee goes right through it. Now I do hose it down but don't use soap when I clean it and swear it doesn't smell!
I have used this at our condo balcony and hotel balcony and put pee pee pads under it cuz obviously I can't hose down the balcony.This product is so great I have bought different sizes for different purposes and hate to admit carry in a plastic bag to hotels cuz my dog really is hooked on going on it in the middle of the night.
I live in FL and I don't agree that it gets too hot to use yes very warm but not hot u can't walk on it also mine out in full sun for months and still looks like brand new.
I sure wish I had this for my old dog who couldn't get down the stairs, just love this product!
4 likes
---
2020-01-15T02:07:54+00:00
My cats love this so much. They fight over a spot for this turf! Some of my cats do use pads and I completely envisioned it as such but they love it to lounge on instead. It is never empty and somehow relaxes them. Kitty momma approved!
5 likes
---
2020-01-14T07:00:00+00:00
The dogs took to this quickly and have been happily doing their business on the artificial grass. We haven't gone through a summer with this yet, but we've had unusually warm weather for late winter/early spring (it's been in the mid 80s) and lots of direct sunlight. The grass has not yet felt too hot (or even warm), so I'm hopeful that it won't burn any doggy feet in the summer.The rolls of artificial grass smelled a bit at the very start, but the dogs didn't seem to mind and the smell dissipated quickly. The dog urine drains through easily so we haven't experienced any urine smell, even when we've gone for over a week without rain. It's incredibly easy to pick up dog poop from this artificial grass, which is an added bonus.We have a 30 lb Shiba Inu (she's a Shibzilla, but her parents were also very large for the breed) and a 35 lb Mountain Feist. They are both very fast, and the Feist has crazy feet with extra strong nails, but they've been able to chase each other and play hard on this grass without any problems.
6 likes
---
2020-01-14T05:05:19+00:00
We recently moved back into an apartment after living in a house with a front yard. My darling, who is now almost 15 years old has a hard time walking on hardwood floors and slips on most surfaces due to his luxating patella and back problems. We used to invest $33 a month on the grass in the box, which honestly worked but died after 2 weeks or so and there was no way that he could keep his balance in that tiny little box now that he was significantly older. HE LOVES his new grass. He roams around on the patio most of the day, take a nap out there, and have learned to pee and poop out there after a couple of days. It's really easy to clean, as I just dump some water on top and it drains right away. I've only had it for 3 weeks or so, but honestly, its been a Godsend for my dog who no longer can enjoy normal walks outside.
8 likes
---
2020-01-08T01:26:53+00:00
Not much to say about my small yard, but this artificial turf eliminates the hassle of keeping real grass there.
9 likes
---