Global Syn-Turf Sets Industry Standard with PFAS-Free Artificial Grass Products
In a significant move for the artificial turf industry, Global Syn-Turf, a leading manufacturer of synthetic grass, has announced the successful implementation of a PFAS-free product line. This development comes as concerns over the environmental and health impacts of per- and polyfluoroalkyl substances (PFAS) continue to rise.
PFAS, a group of chemicals found in various consumer and industrial products, have been dubbed "forever chemicals" due to their persistence in the environment and the human body. The potential health risks associated with PFAS exposure have led to increased scrutiny and calls for stricter regulations.
Responding to the challenge, Global Syn-Turf has taken a proactive stance by voluntarily ensuring their artificial grass products are free from these controversial chemicals. The company's commitment to health and safety is evident through their rigorous testing and certification process.
According to Global Syn-Turf, the journey to PFAS-free turf began with a careful selection of raw materials, sourced exclusively from suppliers who share the company's vision for a sustainable and healthy planet. To ensure consistency and safety, production processes are continuously monitored for any possible contamination.
Before their products reach the market, Global Syn-Turf subjects them to stringent independent laboratory testing. These tests are designed to detect trace amounts of PFAS, thereby certifying the artificial grass as safe for use in residential, commercial, and recreational areas.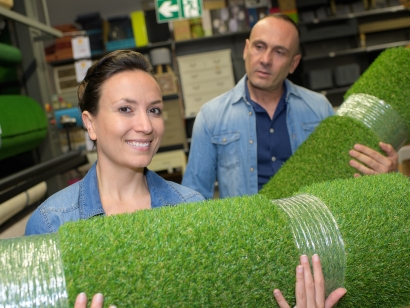 Transparency is key to the company's approach. Global Syn-Turf provides detailed lab reports to the public, underlining their dedication to an eco-friendly and consumer-conscious product range.
The shift to PFAS-free artificial grass by Global Syn-Turf could set a new standard in an industry that caters to a growing demand for sustainable landscaping solutions. While the move ensures customer safety, it also aligns with broader environmental objectives, such as water conservation and the reduction of chemical runoff from traditional lawn care.
Moreover, Global Syn-Turf's PFAS-free turf maintains the high standards of durability and aesthetics that consumers have come to expect. Their products are designed to withstand various climatic conditions without significant wear and tear, thereby providing a cost-effective and low-maintenance alternative to natural grass.
Industry experts view Global Syn-Turf's PFAS-free initiative as a pivotal step towards healthier landscapes and a testament to the company's leadership in environmental stewardship. As the debate over PFAS continues, the company's commitment to providing safe, high-quality, and eco-friendly products places it at the forefront of the synthetic grass industry's evolution.
Customers interested in exploring Global Syn-Turf's PFAS-free artificial grass options can find more information on our website, or by contacting authorized dealers and installers.
This development is not just a win for Global Syn-Turf but for consumers and the environment alike, signaling a new era of responsible and sustainable synthetic landscaping materials.