Cashmere 70 is ideal for commercial and residential landscapes, creating a perfectly manicured, gorgeously looking lawn to be proud of. Utilizing the latest technology to create the ultimate in artificial grass luxury and comfort, All Natural-75 is an outstanding and comfortable, durable synthetic grass product that feels great.
Cashmere 70 is ideal for deck, roof, patio, pet turf, playgrounds, and lawns. The combination of field green and olive green colors with brown and green and field green thatching creates a natural and realistic look.
It is the safest, most durable and beautiful alternative to the traditional playground surfaces. Installed in public parks, playgrounds, and schools, it can help to reduce the risk of injuries and provide a safe and beautifully looking environment for children to enjoy while ensuring low maintenance costs. Perfect for backyard areas where young children may be playing or where you enjoy spending your leisure time.
Artificial grass has never looked so real, so turn your lawn into a beautiful, lush and tranquil retreat and forget about monthly maintenance fees for the next twenty years. Eco-friendly and certified by independent laboratories, Cashmere 70 can withstand rough wear, tear, and extreme weather conditions.
There are many reasons why homeowners love Cashmere 70 synthetic grass. One of them is safety. If you have children, you'll want them to stay protected while running around getting fresh air in the sunlight. No more nasty splinters, or head injuries. Installing Cashmere 70 artificial grass significantly improves the safety of your outdoor environment for you and your whole family.
Safety is our primary concern when it comes to products like Cashmere 70. It's designed to provide a risk-free environment for all kinds of use, but more specifically for athletes. Artificial grass is a better alternative for infield sports like football or soccer in comparison to natural grass. Cashmere 70 is one of the synthetic turf solutions that help to protect players from injuries during game time. Cashmere 70 stays sturdy and smooth despite many years of heavy use. It's been tested by world-renowned independent laboratories and has been undergone vigorous UV, wear and tear tests, meeting the highest standards of the synthetic turf industry every time.
Customer Reviews
5 stars based on 10 customer reviews
---
2021-02-23T02:32:27+00:00
Looks good and has held up well for a year now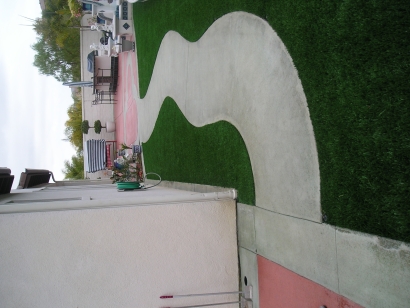 ---
2020-05-14T01:20:15+00:00
If you're looking for a turf that is super soft feeling, then the cashmere 70 will work for you just like it did for me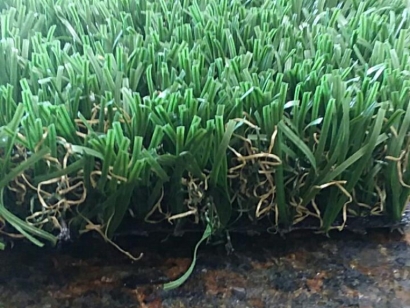 ---
2020-04-11T02:08:06+00:00
I ordered a lot of samples to see which one I like the most. What I noticed is that some were very fake looking while others were more real looking. The density and feel was also different for each turf. I didn't even know there were so many to choose from. Since this was for my patio area that I frequently walk on and sit on, I wanted something softer. The cashmere is actually the softer than real grass which is interesting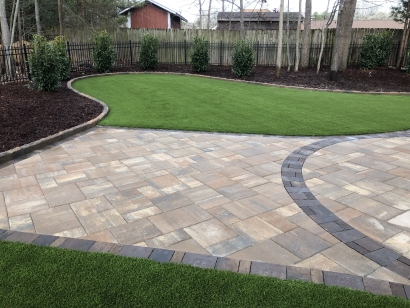 ---
2020-02-07T20:43:06+00:00
I have a resort here in California. Since people love uploading their pictures about their whereabouts on IG and FB, I planned on designing it to attract more customers. Since budget is kinda tight for now, I decided to try to install artificial grass on the wall since I saw some made this. I contacted an installer to ask if that's possible and I'm glad they can do it. The installation only took a day since the area is small. Now, my resort looks better than before. I'll surely use artificial grass on the pavement soon!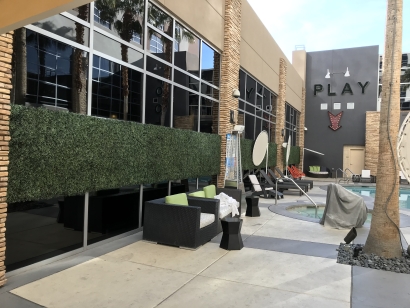 ---
2020-01-23T20:41:04+00:00
We have a problem with our backyard which is very muddy when raining. We live in Louisiana where rain is frequent so my wife and I decided to install artificial grass to try if it will do the magic. The installers excavate soil before putting in the base and laying the artificial grass and voila! Not only our muddy problem has been solved but we also have a place for the kids to play. The 4 days wait for them to install it is definitely worth the wait. Will recommend this to our friends and families.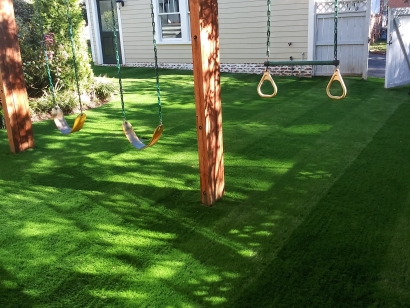 1 like
---
2020-01-15T04:08:32+00:00
I used the "grass" on 4ft x 13ft my balcony. It made the perfect back yard for my condo. I had to cut a couple of places to make it fit, but it was easy to cut with a pair of sturdy scissors. I put exercise mats underneath to make it padded. Exactly what I'd hoped.
2 likes
---
2020-01-13T04:25:15+00:00
The green is looking fantastic, it is above and beyond our expectations.My kids and I love the green.my beagle can't get enough of the new lawn and my cats now like to play outside too.
3 likes
---
2020-01-11T00:47:40+00:00
This is my second try with artificial grass. Global Syn-Turf got it right! Most important Factor - IS IT SOFT?Y Yes! It's soft and VERY comfortable to walk on, play on and gently fall on, and we have it on top of concrete. Now, having said that even with the Cashmere 70 grass standing up straight (for the very most part) infill does add weight to keep it from sliding, a little bit of bounce and more cushion. 
2nd most important Factor - Durability. Will the color fade over time? Will it hold up against little feet running all over it for years? I don't know yet but I will report back if that does happen.
3rd most important Factor - Does it look real?Yep. If you put your face right on the ground, then, no it doesn't. If you're standing up or even sitting on it. Yeah, it really does. So far I'm super happy with it and definitely recommend it!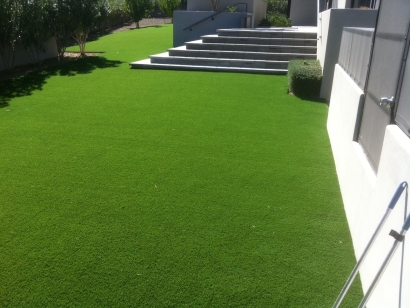 6 likes
---
2019-12-31T04:21:45+00:00
I thought it would have been a challenge to put artificial grass on my front yard given the fact of its big slope, but the installer did a great job with GST's Cashmere 70! I live in Fremont, California, and I personally like the soft turf and this Cashmere works! It is very tall and fluffy, yet extremely soft compared with other products on the market. Since I have it on my front yard with slope, not much of foot traffic if any at all, so I was told I don't have to worry much about the turf being lay down due to traffics, more just for the look. It took the installer about a week from start to finish which is in my opinion pretty quick. They took out my old lawn in a day, and have those big truckloads of gravels and stuff for the base, compacted and watered it before laying down the turf, I did't have them installed the weed barrier even they offered me that option though as I don't mind have some weeds if any to look even more natural for my lawn. Already receiving good comments from my neighbors and friends, my front yard now looks awesome, can't say enough how much I like it!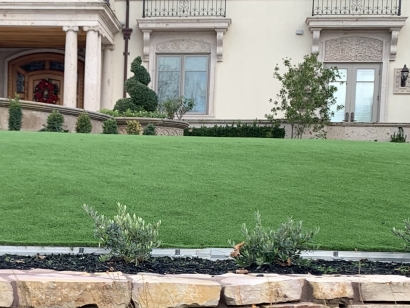 12 likes
---
2019-12-19T06:23:38+00:00
I live in southern California, and what I care the most is the softness when I picked up the turf. I looked around and found this Cashmere 70. It is the softest and most realistic looking grass I found. I was a bit concerned about the grass laying down given how soft it is, but so far after almost a year, this turf hasn't disappointed me. I guess maybe I have it for my front yard, and there is not much traffic going through it. I definitely recommend this turf product for front yards based on my own experience. You can't go wrong with this Cashmere 70.
22 likes
---