With a pile height of 1 7/8" and face weight 72 oz.yd2, Double S-72 is ideal for deck, patio, roof, pet turf, playgrounds, and landscapes. The combination of Emerald Green and Olive Green colors with brown and green thatching creates a natural and realistic look.
Double S-72 is the safest and most durable alternative grass solution for playground surfaces. Often installed in public parks, playgrounds, and schools, it can help to reduce the risk of injuries, and provide a safe and beautifully looking environment for children to enjoy while ensuring low maintenance cost. Perfect for backyard areas where young children may be playing or where you enjoy spending your leisure time.
ARTIFICIAL GRASS HAS NEVER LOOKED SO REAL.
Turn your lawn into a beautiful, lush and tranquil retreat and forget about monthly maintenance fees for the next twenty years. Eco-friendly and certified by independent laboratories, Double S-72 can withstand rough wear, tear and extreme weather conditions with 20 years of projected life expectancy.
There are many reasons why our customers love Double S-72 synthetic grass. It's an ideal product for commercial and residential landscapes. One of the reasons why homeowners love Double S-72 is its safety benefits. If you have children, you'll want them to stay protected while enjoying the benefits of fresh air and sunlight. Installing Double S-72 artificial grass significantly improves the safety of your outdoor environment.
If you desire a perfectly manicured, gorgeously looking lawn to be proud of while eliminating maintenance expenses, Global Syn-Turf Double S-72 artificial grass is what you are looking for. Utilizing the latest technology to create an S-shaped design on the blade providing various light and dark color combinations, this artificial grass is both luxurious and comfortable. Double S-72 boasts resilient synthetic grass durability that also feels great when you kick your shoes off.
Customer Reviews
5 stars based on 10 customer reviews
---
2021-06-24T00:28:30+00:00
One of my favorites, very durable
---
2020-05-09T01:07:52+00:00
Although it isn't the most pricy option, it still gets the job done and looks great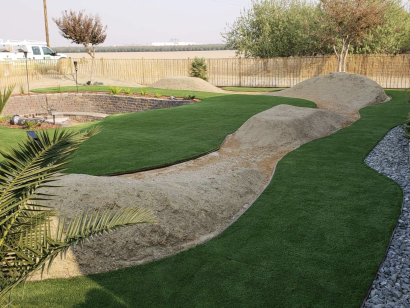 ---
2020-03-12T10:53:07+00:00
A considerable lot of the artificial grasses I've seen are firm, this one is delicate and feels great to rub on my hands. I've just had it down for several days. My cat appreciates rolling and laying on it, as does a preschooler who visits. I will presumably move it up and prep better under it, to incorporate a layer of sand. The reality of the situation will become obvious eventually how well it holds up yet so far it looks and feels sturdy.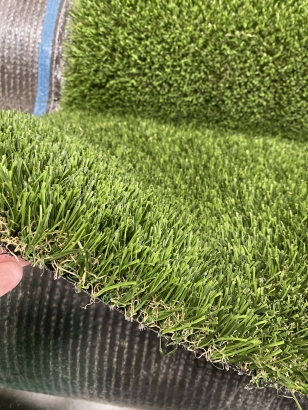 ---
2020-03-10T10:40:34+00:00
This is my first time writing a review but this product is worth it! My wife is 6 months pregnant and sometimes it is difficult for us to take our dog out at night time. We purchased this artificial grass and I just trimmed a little off the side. Our dogs love it and feel like the real thing. I would certainly recommend it! It has no smell and dogs go right to it. Worth the money! It's perfect.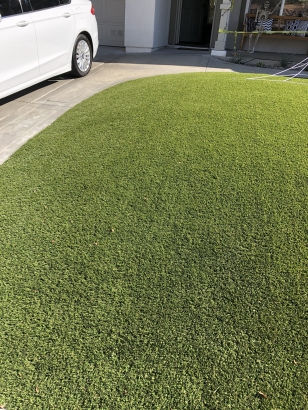 1 like
---
2020-03-09T15:45:52+00:00
As you can see, the color of my house and pavement is kinda boring before we installed the artificial grass. I want to make it look neat so I chose to use artificial grass so I can give some color to my house. It looks so good, plus the maintenance is low so I don't have to worry about grass-cutting and muddy pavement. Thanks to you for my artificial grass.
2 likes
---
2020-03-06T15:49:47+00:00
I purchased this artificial grass for my small backyard. The installer gave me the excess artificial grass and told me to keep it so I can patch it up in case the installed one will break. I was gonna keep it in our basement but I came up with the idea to cut it into small rectangles and make a doormat. Surely, the artificial grass doormat looks perfect! It holds firmly on my tiles without using any glue. Now I don't have to wash dirty fabric doormats.
4 likes
---
2020-03-02T09:40:45+00:00
I bought a puppy so I bought a small portion of this artificial grass so I can potty train him. At first, he was hesitant but finally, he peed on it. He's getting used to using artificial grass as his bathroom. Though he hasn't tried pooping on it, I know we'll get in there. I'll probably buy another portion of this artificial grass once he grows bigger since the one I purchased is good for small dogs only.
4 likes
---
2020-02-08T09:25:29+00:00
A cherry tree is fully shaded at my backyard. The grass will not grow-so I ended up getting mud and weeds. I want a grass look though. I used this in my yard for a centerpiece. It also looks just amazing! The artificial grass is of high quality, and the backing of the rubber seems to make it hold better than other products. This is definitely the best out there product-outstanding quality and price. NO irrigation, NO cutting & eco-friendly.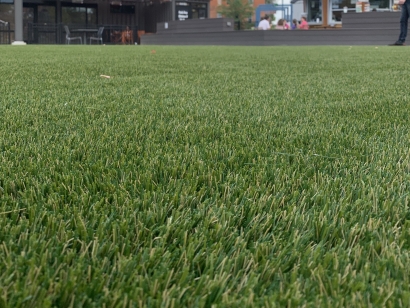 5 likes
---
2020-01-15T07:14:44+00:00
Used this for a city balcony. It is extremely easy to install. Also, it looks and feels like real grass. I will have to wait to see how it holds up to rain and snow.One year later: The grass made it through the tough Chicago winter and still looks brand new!
6 likes
---
2019-12-28T05:58:32+00:00
I didn't go with the high end turf: to me, those are too thick. I like this particular model the best, it has double S shaped grass and looks very realistic. A lot of positive compliments from friends and neighbors. I enjoy it very much, no need to worry about keeping up with the real grass, I think everyone should go with artificial now days, no brainer.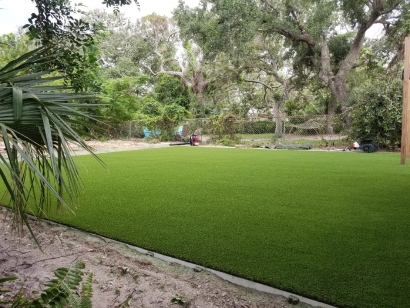 15 likes
---