Combining the best characteristics of natural grass and sports court surfaces, Trainers Turf-63 artificial turf is one of the best synthetic grass solutions on the market. Creating perfect traction and the best force reduction properties, Trainers Turf-63 has withstood the tests of time and proven to give the best game experience for players and their fans. Whether on the field or the sidelines, Trainer's Turf-63 is a durable turf that handles heavy foot traffic, and extreme situations with the reliability athletes depend on.
With a pile height of 1 1/4" and a face weight of 63 oz./yd2, Trainers Turf-63 is specially designed for sports but is versatile enough for landscapes and pet areas. The popular Stemgrass blade shape of this turf emphasizes the realistic nature of the turf; the broad Stemgrass blades mimic the natural form of real grass. Emerald Green and Olive Green blades combined with Green thatching create a deep, uniformed green look that will last through all weather seasons. Excessive mud and dirt will no longer hamper players during game and practice time, as artificial turf removes the possibility of mud and rocks that create an uneven playing field and affects gameplay, no matter what team you're on.
Global Syn-Turf's Trainers Turf-63 will also save you money on pesky maintenance bills and keep your sports field or landscape in tip-top shape while looking healthy, vibrant, and consistently green all year round. Your team will love the reliability of the finest quality turf beneath their feet that meets all the safety requirements to ensure the greatest game possible.
SAFETY
There are many reasons why our schools and sports facilities across America choose Trainers Turf-63. One of them is safety. For all players of different ages and sizes, you want them to stay protected. And you won't have to stress over the risk of nasty splinters or head injuries. Installing Trainers Turf-63 artificial grass improves the safety of your indoor space or outdoor environment.
COST EFFECTIVE
How does one save time and completely eliminate growing monthly lawn maintenance expenses? Installing GST's Trainers Turf-63 artificial grass is the answer. Trainers Turf-63 is a beautiful, durable, and reliable synthetic grass product that feels great for multi-purpose use. With a life expectancy of 25 years and a 15-year industry-leading warranty, you'll never go back to natural grass again.
Customer Reviews
5 stars based on 12 customer reviews
---
2021-02-13T02:18:52+00:00
residential soccerfield job done!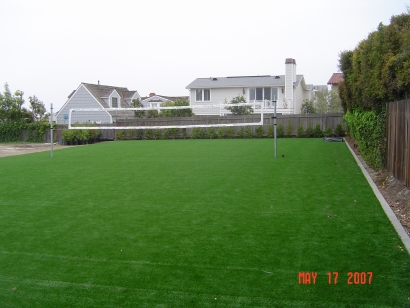 1 like
---
2020-11-20T03:29:25+00:00
Took a while to install, but it was well worth it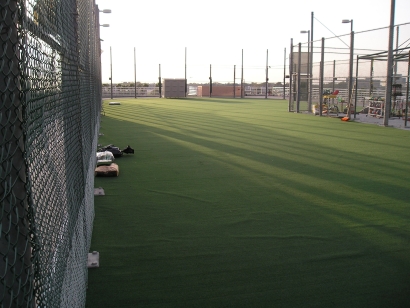 1 like
---
2020-09-17T00:26:34+00:00
Just did a job for a sports field in Arizona. Final result is stunning, big thanks to GST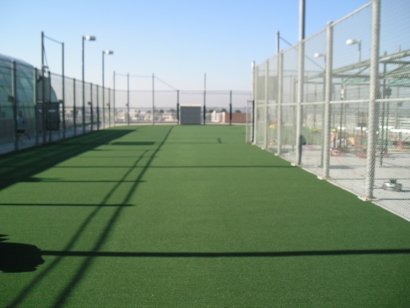 1 like
---
2020-09-03T00:29:40+00:00
Just completed a soccer field project with the trainers turf! Feels and looks great, thanks GST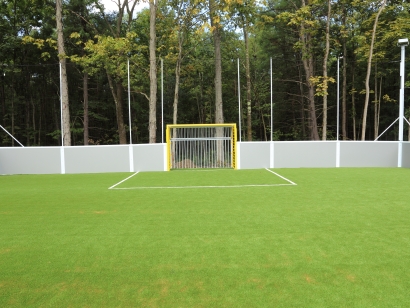 1 like
---
2020-05-16T00:22:27+00:00
The trainers turf is specialized for sports fields and looks incredible! If you're looking for a field turf, this should be a go to.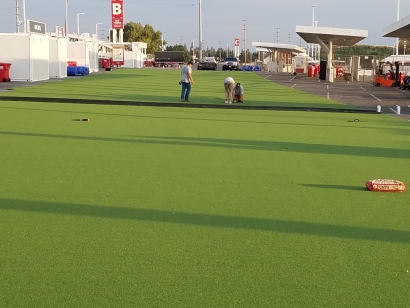 1 like
---
2020-03-26T01:33:34+00:00
My customers absolutely love trainers turf for their sports fields, gyms, and public spaces. The color looks great in the sun and the feel is nice for sports.
---
2020-03-05T16:20:27+00:00
I bought a small portion of this artificial grass so I can potty train my new puppy as he keeps on peeing everywhere around my house. Unlike my other dogs, she's not yet used to the new place. Once I laid it near their sleeping area, my other dogs lure on it too! I'm now buying a larger size so there will be enough space for my 5 dogs as they love staying on it.
---
2020-03-03T09:33:43+00:00
I have a 14 yr old dog and he has a problem with his bladder, he pees like every 2 hrs so we have to go out of the house all the time so he can be relieved. It's already winter and I don't think going out is still advisable so I bought this artificial grass to potty train him. Now, we do not have to go out in the cold so he can do his bathroom duty. I laid it beside his sleeping area and he can pee whenever he likes it. It's a total relief!
2 likes
---
2020-02-28T20:17:21+00:00
This is an amazing product! I installed it on our back porch and my dog uses it without any hassle. I also put it inside our house during the night so he can use it whenever needed. It is so easy to clean too! All you have to do is to empty the contents and rinse it with water. I use a disinfectant spray cleaner so the smell will disappear. I would definitely recommend this, especially during the winter season.
4 likes
---
2020-01-14T06:24:28+00:00
I bought the sample patch for my 11 lb dog to use on the balcony. It works perfectly with a puppy pad underneath that I just switch out every 2-3 uses. The holes in the grass allow for easy draining/washing, and the rain naturally rinses it. It's been over a week with no smell. She didn't use it at all the first day, but on the second day, I waited until she needed to use the bathroom really badly, and put her on the balcony. She had no choice but to use it and I gave her a treat afterward. Now she knows to scratch at the balcony door every time she needs to go. I would most likely purchase this again.
4 likes
---
2019-12-27T01:49:48+00:00
We have this awesome Trainers Turf installed at an entertainment area in Los Angeles, CA. The turf is short and durable, with no brownish color fiber in it, so it is technically all green which we proffered. Traffic on this turf has been very heavy, but after couple of years, we still like it very much, haven't had a complain regarding the turf ever since it installed. We like it to be practical and maintenance free, well worth the investment.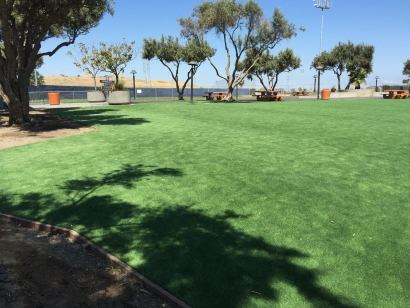 10 likes
---
2019-07-12T22:25:54+00:00
It's very green, realistic and features vibrant color scheme, combined with the high-quality, dense construction. The description was accurate this turf looks better than its pics. Installers were polite and careful with trees and bushes.  So far we installed it on the porch and backyard, and it's okay. Beautiful and comfortable to walk on for both humans and dogs.
18 likes
---