High Sierra is one of the tallest and thickest artificial grass products we provide. Encapsulating a beautiful slender structure of colorful field green and lime green, this full and lengthy turf can be used for all sorts of commercial and residential landscape applications, including pet areas, city traffic medians, and playgrounds.
HIGHEST QUALITY MATERIALS
High Sierra is made of the highest quality materials: polyethylene and polypropylene curled as thatch. High Sierra is a professional grade synthetic turf that will last more than 20 years under regular traffic and is covered under a 15-year manufacturer's warranty.
DENSITY
Many factors contribute to the density of artificial grass density, such as overall quality, performance, and durability. The Face Weight of turf refers to how much a turf's fiber weighs per square yard. It has to do with the spacing of turf fibers into the turf backing, this is known as tufting; the closer it is, the greater the density of the turf. High Sierra has 96 ounces per square yard density that makes it one of the most solid grass products on the market.
TALL & CUSHY
Artificial grass pile height is all of the visible fibers you see on the surface; simply put, it's the length of those fibers. There is short-pile turf, used primarily for putting greens, medium-pile turf and high-pile turf (over 1.75 inches and above). High Sierra has 2.5 inches pile height, making it one of the tallest and most plushy types of synthetic grass. If you want a soft feeling underfoot, this product is your number one choice. High Sierra can definitely add warmth, softness, and coziness to your yard like no other.
SUPER REALISTIC
Two shades of greens - 2/3 field green and 1/3 lime green create a marvelous, bright color that can suit virtually any indoor or outdoor space.
DURABILITY
Every artificial grass product we sell is durable and can last you for more than 20 years. High Sierra is no exception. It combines high-quality, high-density, and solid backing; resulting in solid durability. The colors are also long-lasting and will not fade over time no matter the weather conditions; hot, dry, humid or rainy. High Sierra can also withstand high traffic and years of use.
SAFE & PET-FRIENDLY
100% lead-free and non-toxic, High Sierra is safe for your health and the health of your family. It's pet's friendly, has perfect drainage, and doesn't react to chemicals contained in pet's urine.
MULTI-USE
You can install High Sierra in almost any setting, including your front or backyard, patio, or deck. It's professional-grade, beautiful, realistic, and durable artificial grass that will make your landscape always look green and clean. You can set playground equipment on top of it and let your kids enjoy soft, comfortable grass that will always stay dry and tidy. If you have dogs, cats, or other pets, High Sierra will do a great job in beautifying your space and eliminating worries about dirty paws and patchy lawn appearance.
Customer Reviews
5 stars based on 7 customer reviews
---
2021-06-26T00:04:05+00:00
lovely new backyard, thank you!!!
---
2020-05-08T01:19:07+00:00
I was scared that the color would be too fake looking, but it turned out to look even better than my old lawn!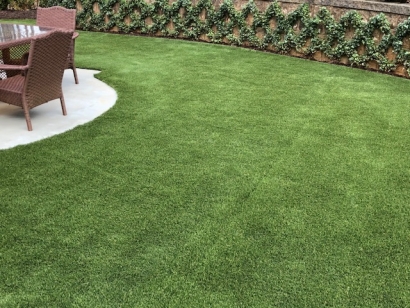 ---
2020-03-13T12:32:40+00:00
Look at how this artificial grass transformed my muddy backyard into an accessible backyard! It was very muddy before when it rains so we can't go there. We decided to install artificial grass as recommended by my friends because they said that it will cover up the mud without a problem. I contacted an installer to ask if it's possible and they said yes! It only took them 3 days to finish the installation. We can now access our backyard no matter what season. Thanks for you guys!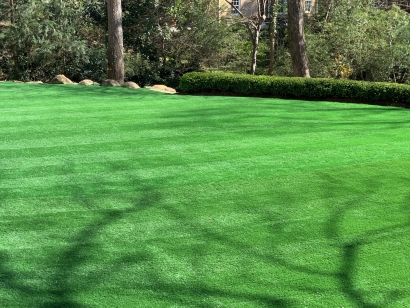 ---
2020-03-11T15:15:09+00:00
I'd never thought my artificial grass will shape perfectly with my backyard. As you can see, my backyard is kidney-shaped so I contacted an installer to help me out shaping the artificial grass. It's a lot of hard work, but finally, they did it. I love how the grass is soft to the touch. My kids are so excited to play on it. We are planning on putting some chairs on it.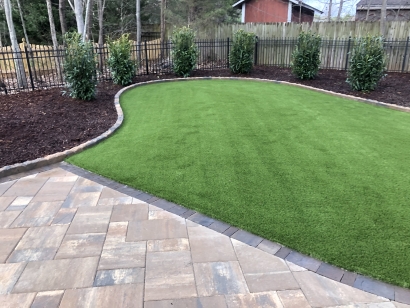 1 like
---
2020-02-13T08:47:21+00:00
I lived uphill, and one thing I noticed early on was that the soil was made of clay. As a result, we don't have the best soil quality to grow plants there, we mostly have fruit trees and bushes, and everything that seems to touch the lawn just dies as well as the grass. Fortunately, I found an artificial grass store online and I was able to order within a few clicks taking s few measurements and this wonderful team turned up at my house they delivered all the equipment, tools, and grass arrives on a roll such as a carpet. Installation is done in a few hours! It is just breathtaking to look at its so green so thick so luscious and soft!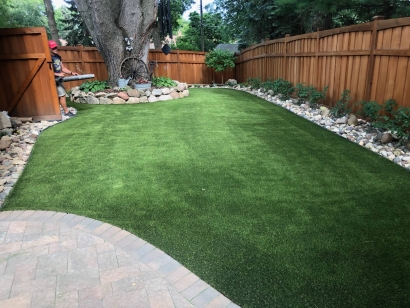 2 likes
---
2020-01-14T04:12:16+00:00
Looks real, feels real, very easy to install it's been a few days now that we have installed it. Make sure you have a sharp cutter, I used a fresh blade turn it upside down to measure and cut, it's pretty easy for anyone to do it. Our dog loves it. It comes in good packaging and is delivered well within the expectations.
3 likes
---
2019-12-24T08:51:02+00:00
I have chose the tallest and thickness turf I can find, it's called High Sierra, and I like the color too, it blends in with the neighborhood very well. My front yard has slope to it, and I think the installer did a great job installing the turf. The grass follow the slope well and nobody can tell the grass is fake even on such slope.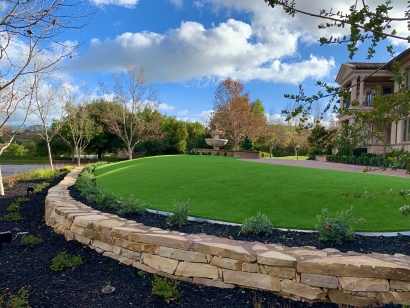 9 likes
---