Cashmere 40 is excellent for commercial and residential landscapes, playgrounds, pets areas, and public parks. It feels soft and silky to the touch, is evenly backed, and has well-stitched tufts. Its beautiful color is consistently vibrant, exuding shades of field green and olive green color with green and brown thatching. It's also durable, as we've devised a unique blade structure and new yarn for Cashmere 40 that resists wearing up to four times that of other artificial grass products.
Turn your lawn into a beautiful, lush and tranquil retreat and forget about monthly maintenance fees for the next twenty years. Eco-friendly and certified by independent laboratories, Cashmere 40 can withstand rough wear, tear and extreme weather conditions with 20 years of projected life expectancy.
Cashmere 40 is ideal for commercial and residential landscapes. If you desire to have a perfectly manicured, gorgeously looking lawn to be proud of and to eliminate monthly lawn maintenance expenses, GST Cashmere 40 artificial grass is the answer.
SAFETY
There are many reasons why homeowners love Cashmere 40 synthetic grass. One of them is safety. If you have children, you want them to stay protected while enjoying the benefits of fresh air and sunlight. No more nasty splinters, or head injuries. Installing Cashmere 40 artificial grass improves the safety of your outdoor environment.
COST EFFECTIVE
How does one save time and completely eliminate growing monthly lawn maintenance expenses? Installing GSTs Cashmere 40 artificial grass is the answer. Utilizing the latest technology, we've created the softest and coziest in artificial grass comfort. Cashmere 40 is outstanding for a comfortable yet durable synthetic grass product that feels great when you kick your shoes off. Truly a cost-effective choice for a faux grass product aimed at delivering comfort.
WARRANTY
And don't worry about reliability and longevity, rest assured in knowing that we proudly stand behind our products, all of which are covered by our industry-leading 15-year warranty.
Customer Reviews
5 stars based on 10 customer reviews
---
2021-06-22T00:05:49+00:00
Very soft feel and the color is nice as well
---
2021-05-08T00:10:40+00:00
The installers finished last week and it looks wonderful. The feel is very soft! My phone for some reason won't let me upload the HEIC photo file but it's hard to tell from real grass.
---
2021-02-16T02:02:22+00:00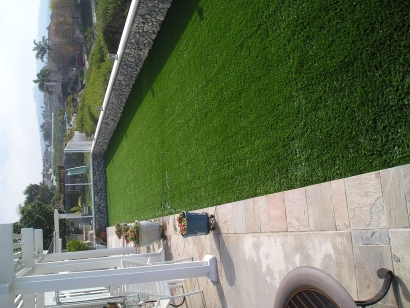 ---
2020-09-25T01:00:19+00:00
Just finished this project. Looks wonderful!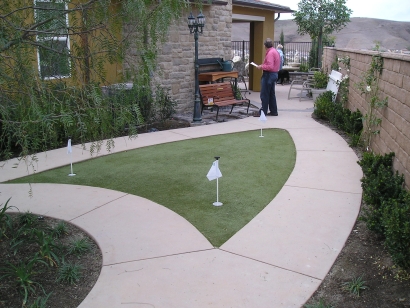 ---
2020-04-04T00:22:56+00:00
My personal favorite pick is the Cashmere series. For patios and places where I have guests over, it offers a soft feel and is not as dense or rough as some of the other turfs.
---
2020-03-06T12:50:23+00:00
I required something to cover the metal meshes in my bacon due to my puppy loves the spot and laid out there. My veranda was just around 9' long and a little more than 2' wide, which are interesting measurements. The estimations fit perfectly! I bought 5 mats and they lay together for a decent look. Having the drainage worked in is extraordinary because now I don't need to stress about turning them over or develop mold. The thickness of the artificial grass is great in my feet too! I firmly recommend. I love this grass!
---
2020-02-29T00:50:10+00:00
I purchased the bigger 6-1/2 feet by 10 feet for my 6x9 area so I didn't need to match up pieces that may be a different color. I used an arch-shaped edge to cut the grass and it works really well. The role of artificial grass was most likely better than I expected. The grass blades look incredibly real! The grass edges came all straightened when rolled but came back up after using a rake. I had little round stones and dirt that I use under the grass. In the event that you need a gentler grass feel, you may use sand. Also, water depletes right through the support with no issue so I never had a problem with water getting stocked on the grass.
---
2020-02-20T20:39:29+00:00
I guarantee you guys, this artificial grass is really strong. I bought a portion of this cashmere 4o for my dog's potty training which he like. But before he get used to it, my dog scratched and gnawed the blades of the artificial grass really hard and I'm surprised that it didn't tear. I just hoped that this artificial grass will last long considering my dog is a hard digger. But as I can see how it was stitched, I believe that it will last longer than what I am expecting.
2 likes
---
2020-02-12T08:00:55+00:00
I have lived in some areas where it is sandy with poor soil and way too gloomy. It's really an absolute nightmare trying to keep out the porch rain, etc. I don't allow my house to have shoes, since we play on the floor, dance, do yoga, and often have a baby run around. Outside mats are useless, (I have tried several kinds). I put this down on the sand that falls onto the little patio on the steps of the porch, and it was the best thing I've ever found for my feet.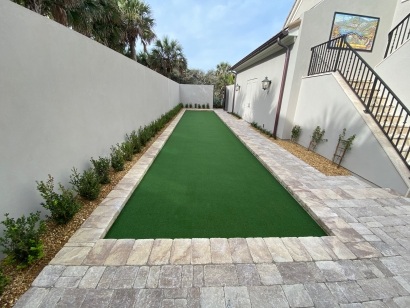 3 likes
---
2019-12-19T03:29:36+00:00
I am tight on my budget, just bought a small piece of this Cashmere-40, not expensive at all. I didn't go through any installations, just lay the piece inside my patio, and my lab loves it. I don't think people can tell any difference between the more expensive artificial grass and the cheaper turf, at least my dog can't! Works for me.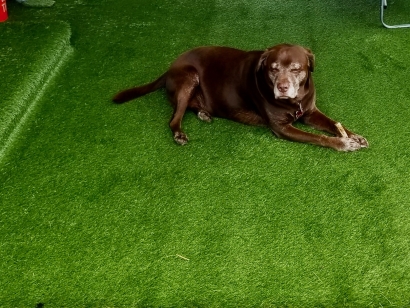 14 likes
---