With a pile height of 2 inches and face weight 52 oz.yd2, Cashmere 52 is ideal for deck, patio, roof, sports, pet turf, playgrounds, landscape. The combination of Field Green and Olive Green colors with Brown and Green thatching looks natural and realistic.
Safety is our primary concern when it comes to the products like Cashmere 52, designed to provide a risk-less environment for athletes. Keep in mind that artificial grass is a better alternative to infield sports (football, soccer, etc.) than natural grass. Cashmere 52 is one of the synthetic turf solutions that help to protect players from injuries during a play. Cashmere 52 stay sturdy and smooth for many years. The Cashmere 52 has been tested by the world-renown independent laboratories. It has been undergone vigorous UV, wear and tear tests and meets the highest standards of synthetic turf industry.
Cashmere 52 is the safest, most durable and beautiful alternative to the old playground surfaces. Artificial grass has never looked so real. Often installed in public park's playgrounds, kindergartens and schools, it can help to reduce the risk of injuries, and to provide a safe and beautifully looking environment for children to enjoy while ensuring low maintenance cost. Perfect for backyard areas where young children may be playing or where you enjoy spending your leisure time.
Turn your lawn into a beautiful, lush and tranquil retreat and forget about monthly maintenance fees for the next twenty years. Eco-friendly and certified by independent laboratories, Cashmere 52 can withstand rough wear, tear and extreme weather conditions with 20 years of projected life expectancy.
Faster drying time makes every day, including rainy days, an excellent day to enjoy a game. There is no more mess, brown spots or stains, only ideal and naturally looking landscape all year long.
Cashmere 52 is ideal for commercial and residential landscapes. If you desire to have a perfectly manicured, gorgeously looking lawn to be proud of and to eliminate monthly lawn maintenance expenses, GST Cashmere 52 artificial grass is the answer. Utilizing the latest technology to create the ultimate in luxury and comfort, Cashmere 52 is outstanding for a surprisingly comfortable yet durable synthetic grass product that feels great when you kick your shoes off.
There are many reasons, why homeowners love Cashmere 52 synthetic grass. One of them is safety. If you have children, you want them to stay protected while enjoying benefits of fresh air and sunlight. No more nasty splinters, or head injuries. Installing Cashmere 52 artificial grass improves the safety of your outdoor environment.
Customer Reviews
5 stars based on 8 customer reviews
---
2023-11-02T21:14:01+00:00
Love it, it's soft and easy to step on.
2 likes
---
2021-05-26T23:56:10+00:00
The feel of this turf is a game changer
---
2020-03-05T12:47:15+00:00
The greater part of my back yard is a porch, yet I have a roughly 15' x 20' lush territory for my dogs. Unfortunately, the sun hits the back yard, and the neighbor behind us allows his weeds to expand wild. I've tried planting seeds to the yard and I had a go with sod which didn't work due to the extreme heat of the sun and the neighbor's weed. This artificial grass has been the ideal arrangement. I bought 3 rolls and was enjoyably amazed by how decent they look. It looks very genuine! Also, from any angle, it is far better than the mud and Bermuda grass that used to be there. I put this over the soil, with no rock or sand fill. I expected that would be a momentary solution with the goal that the dogs could utilize the yard, and that I'd need to return and install a proper layer of sand/rock for drainage. In any case, we've had a great deal of downpour but these are draining very well. I love this product!
---
2020-02-29T00:43:17+00:00
I purchased this item to put around my pool deck. What I preferred about this artificial grass is that I had the option to handily slice the pieces to the shape I want with box cutters and a big scissors for the finishing touches. I truly enjoyed how much gentler it was compared with some of the other stuff out there. It looks genuine in the sun, strolling barefoot on the grass and truly comfortable. I have a couple of dogs, so I without a doubt needed something they could appreciate year-round. You can't beat the quality at the cost of this thing. Easy to install and a decent look, nice and comfortable. The grass looks excellent in my pool deck and my dogs are loving it as well. Certainly an extraordinary purchase!!
1 like
---
2020-02-28T20:24:42+00:00
I love how artificial grass saved me from the hassle. I am struggling with bringing my dog downstairs to potty (we live at the 3oth flr of our condo), so when I saw this product while browsing the internet, I checked it out and bought it. Now we don't have to go down anymore, it saves me time, and my dog can't see the difference at all! He used the artificial grass instantly. I saw that I can also put it on our balcony so I'll buy again.
2 likes
---
2020-02-19T20:16:55+00:00
My dog can't stop running on my artificial grass since I installed it. I bought an artificial grass with one of your distributors to try it out on my backyard. My dog is a very active one, so I thought about putting something that he can enjoy. I installed an artificial grass on 1/4 of my backyard and my dog can't stop running on it! Now I have to call an installer so they can install the other portions that I haven't done yet since I can't do it anymore. It's a big area and it may take a lot of hard work. I hope that putting some chairs and table on it will not ruin the blades.
3 likes
---
2020-02-17T03:46:17+00:00
Had this installed to our daycare which served as a mini playground and a platform for us in every event. We've been using it for a month now and never did we have any sort of problem! Maintaining it is very easy. Although we were informed that we can wash it for at least twice a week, we make sure to clean it almost everyday, but only with a leaf blower and water occasionally. We were able to spend our time to other tasks and had so many enjoyable moments with the kids on this turf because they loved it so much! Thank you!
4 likes
---
2019-12-20T07:06:40+00:00
I live in Orlando, Florida, my installer installed this Cashmere-52 in my yard about a year ago. It still looks great up to date. I don't miss the days of mowing lawns and muddy mess. Now I can spend more time doing my gardening instead of wasting my time on my lawn. People saying good things about my turf, and I didn't spend that much as others said. The turf installation took only couple of days, the installer came in and out and doesn't seem it is difficult.
I would have chosen a more expensive turf but I am glad I didn't as this 52 oz turf looks and holds up just as nice in my own opinion.
I hope this will last a while, as long as I stay at my house. GST seems to have a decent warranty.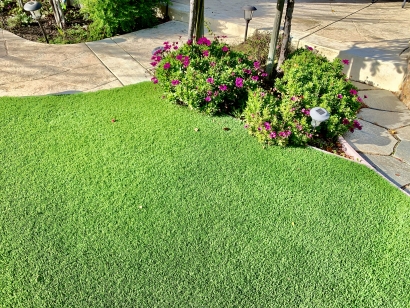 19 likes
---